What would you do if your business's reputation crumbled? You many need some Reputation Management.
I'm sure you have spent your entire business career building up a reputation for yourself and your business. You have worked hard to ensure your customers are happy and treated well. A good reputation is priceless and ensures your business continues to grow and succeed into the future, it also improves the saleability of your business should you choose to do so in the future.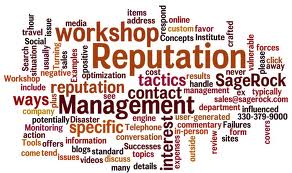 Now – Have you ever had a disgruntled employee or an unhappy customer? Can you guarantee you won't have one in the future? Have you ever made a mistake or misjudgment and ended up in court or the local paper? Let's face it – every business, even the most experienced professional will experience something negative like this at least once in the life of the business and this is when you need some Reputation Management.
Until recently the saying went "A happy customer tells 3, an unhappy customer tells 10". Well now it different. With social media like Facebook, YouTube, blogs and other review sites, somebody with a grudge against your business can blast it out there for thousands to see, read, hear and create such a bad buzz that your existing customers could begin to distrust you and new customers stop coming… and before you know it, your business is failing! (And the smaller or more local the business, the quicker gossip spreads.)
Take this story for an example On July 6, 2009 Canadian musician David Carroll and his band, Sons of Maxwell, uploaded a song to YouTube about their bad experience with a broken guitar on a United Airline trip.
At the end of the first day 150,000 people had watched that video and only 3 weeks later 5 million had watched it and 2½ years later it has had 11 million views! Now, this is an extreme example but all it takes is one creative but unhappy customer or employee and you could be national news for all the wrong reasons!
You may not know that nearly 90% of Australians use Google to find products and services similar to yours. A large majority of these will actively seek out reviews of your business before they contact you. If somebody publishes a negative review about you, it could very well end up on google page 1 and destroy years of good work overnight! A potential customer may easily come across bad news about you if any such articles, reviews, blog posts, videos or facebook groups etc have been published by someone with a grudge against you.
Bad news can cause very large problems, so it's essential that any negative reviews, articles & blog posts etc, are removed from the 1st pages of Google. (They are VERY unlikely to be seen if they are no longer on page 1 of Google) When a potential customer reads damaging information, they will probably stop looking into you and just go along to the next service provider! Your business reputation will suffer, resulting in fewer sales – so it's crucial you act now!
Contact Us at Online Influence Today to discuss your reputation management and what you would do if it came under attack. You may think it's unlikely but we have seen businesses hurt too often by bad press, so act now!